---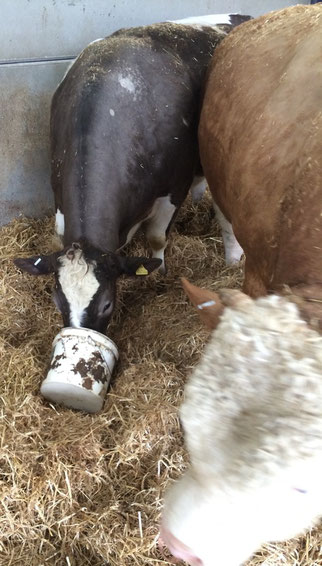 26th March 2016
A special day at Red Oak Farm!
Today is Bullseye's 5th Birthday.
Bullseye is our pet steer who is best friends with Brigadier our main stock bull. He was no bigger than Peter the Labrador when he was born, being found in the corner of the shed abandoned by his mother. He was given very little chance of survival but George along with James fed and looked after him. It was a rough ride with Bullseye managing to make things worse by breaking his leg.
He has celebrated the day with a bucket of special food, sharing it with his best mate 
Brigadier.
We have also had a rather busy morning
with three new arrivals.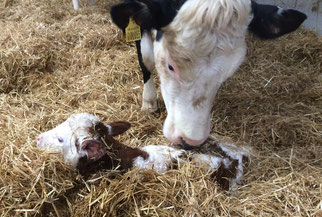 In the early hours of this morning
Piggy, one of our older Hereford X cows
had a Brigadier sired bull calf.
She is being her usual miserable self
straight after calving chasing anyone
that goes near her.
Oh what fun!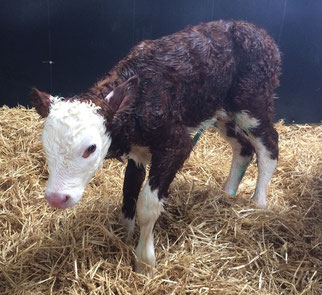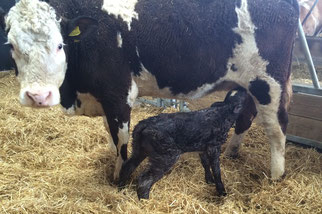 And then at 10 o'clock 
600671, another of our two year old heifer
had another Romeo sired bull calf.
---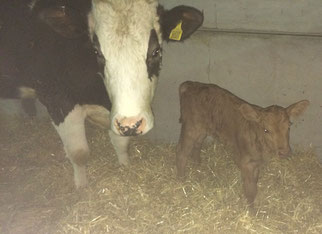 25th March 2016
We have three more births to report, late last night 300689, another of our lovely two year old first time calving heifers had a lovely little
heifer calf whose father is Romeo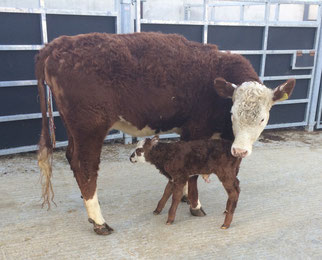 And then at around lunchtime today
No-Bo another two year old had another Romeo sired heifer calf called Scrunchy.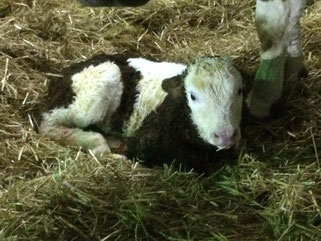 And also just now (7.30 in the evening)
our lovely Mouse has had a lovely little
bull calf, this one's father is Brigadier.
He is a full brother to our very own
super stud Rock Star!
---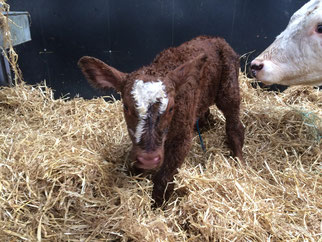 24th March 2016
Well I had to say it!
With reference to my post earlier today thing have already started to get busy in the calving shed. We have had two of our young heifers
calve at around 1 o'clock today.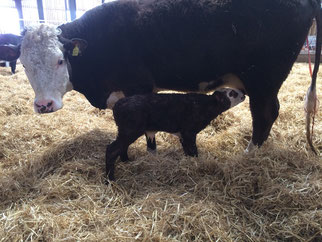 The top picture is the calf of 500670
and the other is
Eve with her little baby.
Both are bull calves sired by our
Red Aberdeen Angus bull Romeo.
---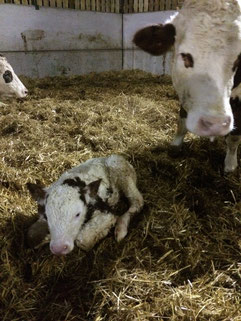 24th March 2016
We have been very busy again over the last couple of days cleaning out the yards whilst it is dry (rain and strong winds forecast for later today).
Rock Star's favourite girl calved on Tuesday evening having a lovely little heifer calf. Rock Star spent most of his time with 100617 in the summer - they had a proper little love affair going on!
This leaves just 15 left to calve over the next 3 weeks, 9 of these being sired by Romeo. It looks like we will be having a busy Easter as quite a few look like they will calve soon.
---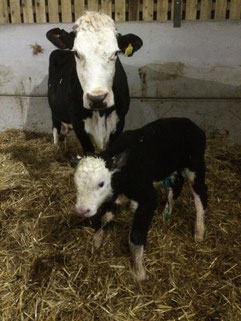 21st March 2016
Happy Spring!
700610 calved late last night having a Brigadier sired
bull calf, again he is on the large side but she calved 
unassisted.
George has had a weekend of little sleep as he has been
nursing Lavender, the Red Angus calf taken seriously poorly on Friday. We are pleased to say that she started to get better
yesterday and although she is still very weak it looks like she 
is on the mend.
---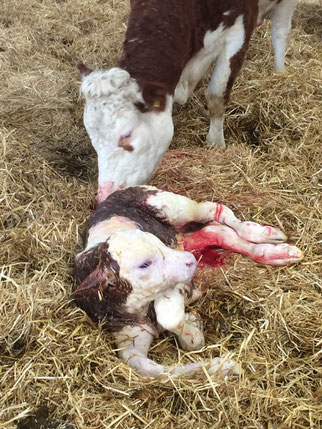 18th March 2016
Lola has finally calved, at around 1.30 this afternoon she had a lovely little bull calf. She has been very uncomfortable for a couple of days now so we are all relieved it is finally over. This is Lola's fourth calf (she is only 4 years old herself) as she had her first at only 15 months of age after the bull had his way with her.
On a more serious note, Lavender the first heifer   pedigree Red Aberdeen Angus born has been taken very poorly with a bug she has picked up. The vet has been to see her and we are doing all we can to help her get better. She is now being fed every three hours by George, it looks like a long weekend ahead!
 Fingers and Toes crossed!
---
16th March 2016
It has been a bit quiet on the calving front again over the last couple of days, it looked like it was all going to kick off again when we last posted but the girls seem to have had their legs crossed.
This morning has started with a busy morning though!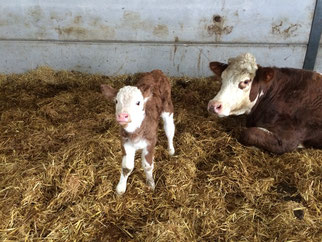 Our lovely Ermentrude calved
in the early hours of this morning having a
very cheeky little heifer calf,
Ermentrude is another of Brindle's daughters.
It is getting harder to name this little family after the Magic Roundabout as most of the female names are taken but
upon investigation this little calf
will be called Rosalie.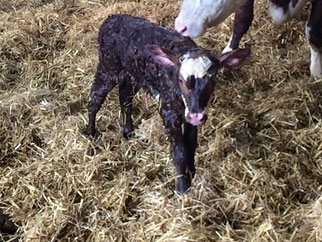 Then at around 9 o'clock this morning we had
our first heifer calf born that is sired
by Romeo.
Her mother is 700644 a first time calving 
three year old heifer.
---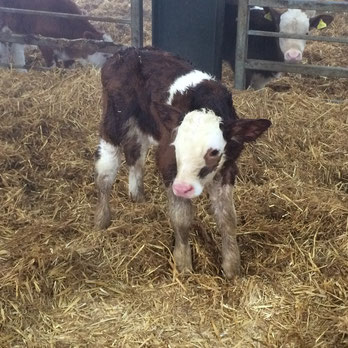 13th March 2016
And we're off again!
In the early hours of this morning 100603 or Pretty Cow as she is known gave birth to a little boy, he is another Brigadier sired calf.
It looks like we shall have a few more over the next week as many of the 21 left to calve are showing signs of getting close. 
Watch this space for more updates!
---
We have now named the pedigree Red Aberdeen Angus calves with there official names
in accordance with the Aberdeen Angus Society.
---
11th March 2016
Moocall saves the day!
At around 7.45 last night our lovely Bo gave birth to another pedigree Red Aberdeen Angus heifer calf, but it was not all plain sailing!
When George left the farm at around 6 o'clock he thought Bo was a little upset but she was not showing any signs of calving, she had our Moocall device attached to her tail to alert us when she did start. At around 7.15 Moocall went off, sending all sorts of strange noises around the house as it sends texts and emails to all of our devices at the same time. George promptly returned to the farm to find Bo had started to calve with a foot starting to emerge. After about 15 mins George got the feeling something was not right so he investigate to find that Bo was trying to push the calf out but one of its front legs was in fact buckled over meaning she could not push it any further. George managed to straighten the leg eventually and Bo then managed to give birth.
We do get the odd leg back in calving but George reckons this is the worst he has ever had to deal with, it took about 10 mins to straighten as Bo kept pushing.
As she looked fine when George left the farm she would not have been checked again until 10 o'clock, so without Moocall we would not have known she had started to calve. This would have almost definitely resulted in a dead calf, instead we have a lovely little heifer calf.
Her father is Red Northline 28 S Breaker and her mother is Trumil 447 Brig 341 Federala T/E
We will also have to rethink the naming of our pedigree Aberdeen Angus calves as the Angus society do things differently to the Simmental society (we were working on their method of naming animals),
we will post the calves new names soon!
---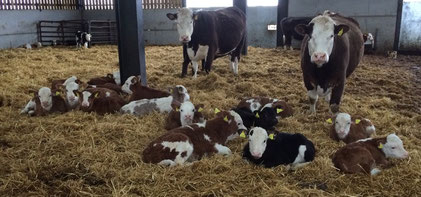 10th March 2016
No new calves for a day or two now, it is nice to be able to catch up on some other jobs.
Here's a nice photo of a gang of youngsters that we took yesterday morning.
---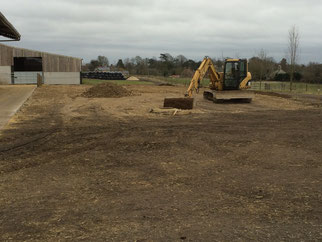 8th March 2016
No update yesterday - Sorry!
It has been rather busy again for the last couple of days and not on the calving front this time.
We have had crushed concrete hardcore coming
from a local development so have used it to level an area that we plan on putting a new building on in the future (subject to planning)
or if not we have a nice new yard area for storage.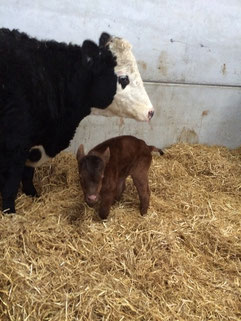 We had another of our pedigree Red Aberdeen Angus babies 
born in the early hours of yesterday morning. 
Snowdrop and Sparkle have both been a little poorly so George was up most of the night before last with them and on hand for the new arrival at 1.00am. He is another bull calf and has been named Red Oak Red Sinbad,
we have also named Nellie's little boy. He will be called
Red Oak Red Solomon.
Sinbad's father is Red Ter-Ron Full Blast 120 T and mother is
Trumil 429 249 Lider Queb 94.
This makes him and Solomon full brothers.
---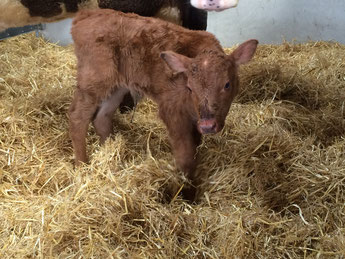 6th March 2016
Yet again we have been busy since yesterday's post. This is Red Oak Red Sparkle, another pedigree Red Aberdeen Angus heifer born at around 6 o'clock last night.
Her surrogate mother is 500691, another two year old home-bred first time calving heifer.
Her father is Red Northline 28 S Breaker and her mother is Trumil 383 League TTE 204.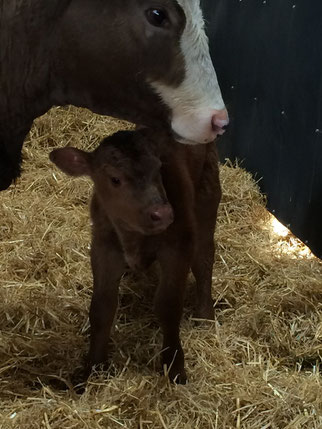 Then at around 10 o'clock last night our 
lovely Nellie had our first pedigree
Red Aberdeen Angus bull calf.
We have not named him as yet but will do so very soon!
His father is Red Ter-Ron Full Blast 120 T
and mother is Trumil 429 249 Lider Queb 94.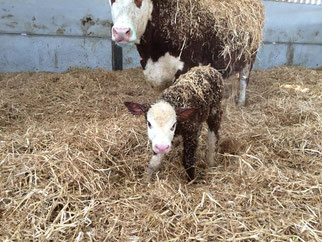 In the early hours of this morning Kitty,
another of Brindles daughters
had a lovely heifer calf.
This one is sired by Brigadier.
---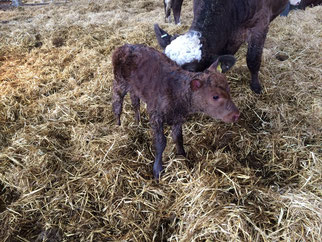 5th March 2016
After a day of no new births yesterday meet
Red Oak Red Snowdrop, born at around lunchtime today.
She is our very first pedigree Red Aberdeen Angus calf born at Red Oak Farm.
She is from one of the embryos we imported from Argentina and implanted into some of our young heifers.
Her surrogate mother is 700686, a two year old home-bred first time calving heifer.
Her father is Red Lazy MC Honkytonk 11 X and her mother is Trumil 383 League TTE 204.
---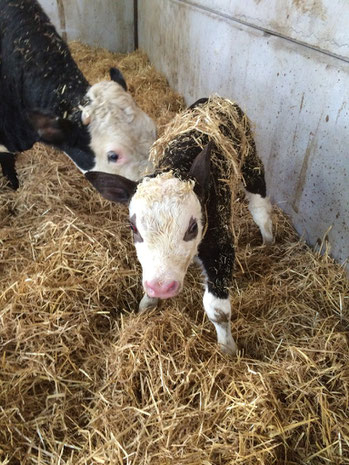 4th March 2016
Yet another late night yesterday with this 
little boy arriving just before midnight.
He is a Brigadier sired calf out of one of our older
Hereford X cows.
If things go to plan we should now have
a few days to catch our breath before the pedigree
Red Aberdeen Angus babies are due.
Only 28 left to calve!
---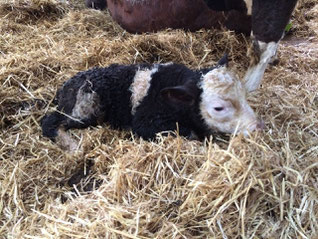 3rd March 2016
We have just had a fairly quite night and 
have managed to get some sleep!
Madge gave birth at around 5 o'clock 
this morning to another Rock Star baby.
She has had a rather solid little boy who has 
already managed to kick George on the 
knee!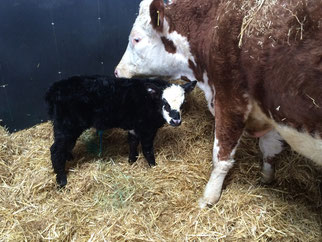 We have also had our last two
first time calving heifers who were artificially inseminated to Mr Brazilian calve today.
300640 gave birth to a little bull
calf this morning.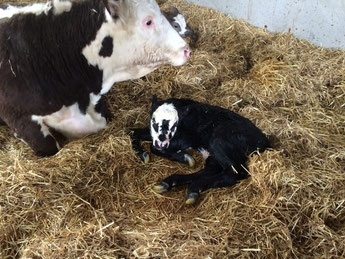 And then Baby Angel Eyes
had to be helped to calve another little bull calf this afternoon. Baby Angel Eyes is a rather special animal as she was the last calf produced by her mother Angel Eyes. Angel Eyes was a lovely cow who unfortunately had a cancer growth on her eye, we removed the eye but the cancer still carried on growing so she had to be put to sleep on the farm back in 2013.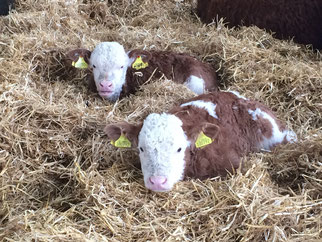 We have also taken this lovely photo 
of Jack and Jill the twins born the other week.
They are becoming a right couple of 
little characters!
---
2nd March 2016
Stanley has taken this lovely picture of Red Oak Farm.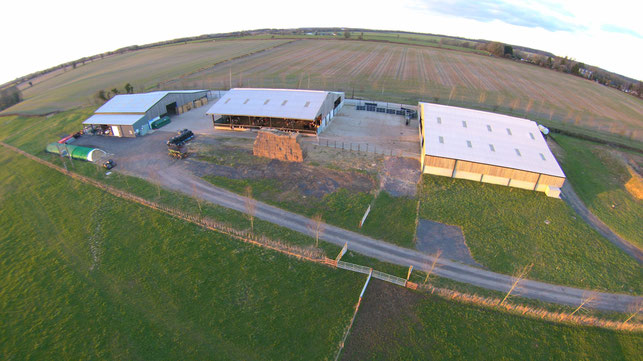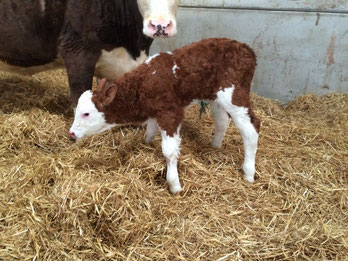 And the calving madness continues!
After a quite day yesterday things got a little busy again last night. Pretty was the first to calve and boy what a calf!
It has to be the largest calf we have ever
had born naturally. We did have to assist her but both mother and son are fine after the experience.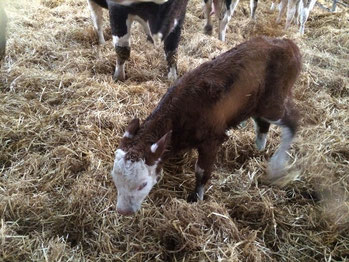 And then just before midnight last night
600608 had a lovely Brigadier sired bull calf.
600608 is the twin sister to the cow
who had twins and we were wondering if she 
would do the same as she was rather large.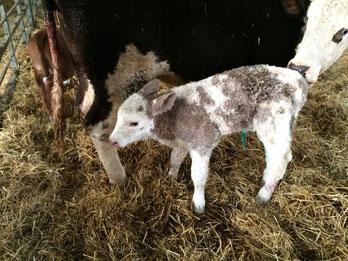 Also at around the same time last night
Mrs Friendly Pig had a lovely 
Rock Star sired heifer calf.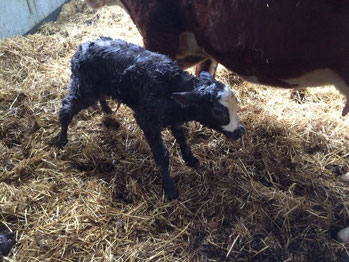 We have already had a couple of births
 today. Meg has had a little boy. She is another 
of our three year old second calving cows who was
artificially inseminated to Mr Brazilian.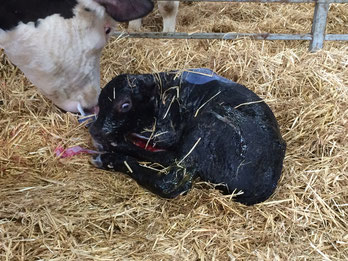 And just now at about 10.15, 100636 has had 
another bull calf sired by AI to Mr Brazilian.
She is another first time calving three year old heifer
whose mother is Piggy, one of our old Hereford X 
cows.
Looks like another busy day ahead!
---
1st March 2016
Yesterday carried on as it began being a very busy day, we had a total of five new births in 
15 hours with George not finishing until mid-night. 
We also scanned some of our girls that we are trying to get in calf ready to calve in November
with varied results.
Unfortunately the four heifers that we implanted the embryos into are not showing as in calf,
this means they have not held the embryos for some reason. We did put the randy young bulls with them in case of problems so lets hope they have done their job and got them in calf!
Emily and Cindy, two of our Pedigree Simmentals were both artificially inseminated and we are pleased
to say that they are both in calf and due in November. This was George's first attempt at AI after his course back in December, a great result!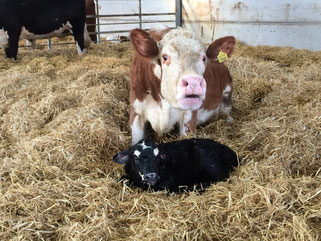 Brie calved at around lunchtime, she also had
a lovely little heifer calf again sired by
Mr Brazilian.
Brie is a lovely three year old cow
who is another home-bred
daughter of the very special Brindle,
her father is Brigadier.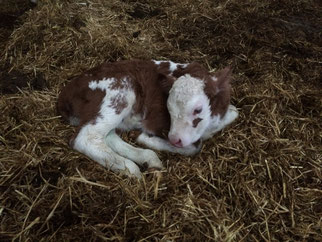 600615 had a rather large heifer
calf at around 9 o'clock last night.
This one's father
is Brigadier.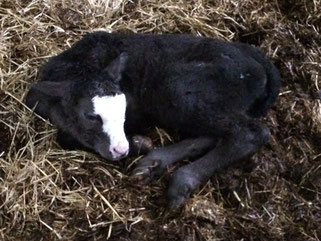 At around 11.30 last night 100652,
another three year old first time calving
heifer had to be helped.
She had another heifer calf sired
by Mr Brazilian. Mum was straight on her 
feet and attending to her calf.
Great!
---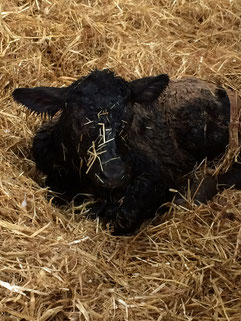 29th February 2016
It has been a busy morning with two births already and it is 
only 10 o'clock.
We have had another heifer calf sired by AI to Mr Brazilian
out of one of our home-bred three year old heifers. This is her first calf and she was the usual pain to calve as she was not sure what was going on (very common in first time calving heifers).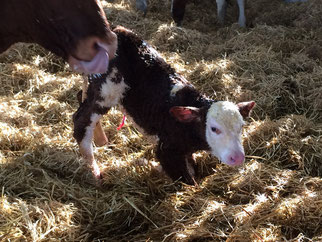 Miss John also calved at around the same 
time. She has also had a lovely
heifer calf. This is another sired by 
our very own Rock Star.
We are scanning some of our Autumn calvers
later today and it looks like more calves are on the way as well so I will update later.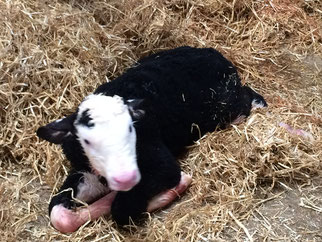 Bafta, one of our old Hereford X cows calved 
yesterday afternoon producing a rather large heifer calf. 
Bafta got her name a couple of years ago when she spent three days not getting up after calving. We did everything for her over those few days and then as we were trying to get some straps under her to lift her with a machine she just stood up and looked at us as if we were mad laying in the straw with the straps. To this day we still think she was acting, hence the name Bafta.
---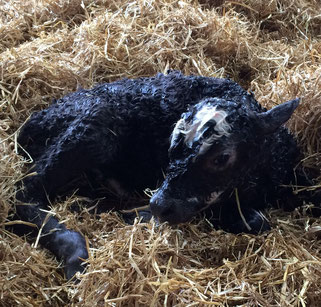 28th February 2016
Late yesterday afternoon we had our first
calf born to Netherton Mr Brazilian, an 
Aberdeen Angus bull. We artificially inseminated
some of our home-bred animals using his semen.
This little boy is out of a young three year old second time calving home-bred animal.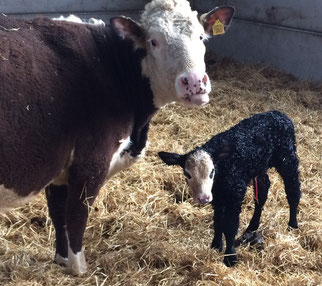 And then sometime this morning
we had our first heifer calf sired 
by Netherton Mr Brazilian.
Again this is a second time calving
young three year old home-bred cow.
It looks like we will have some more
calve today as well.
---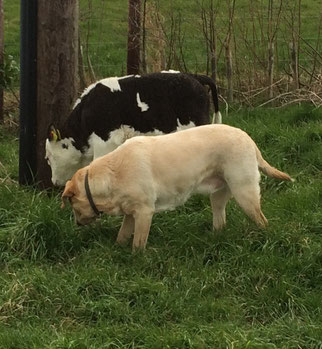 27th February 2016
All quiet on the calving front at the moment, but not for long as we have eight heifers due to calve over the next week as well as the odd older cow.
I caught these two out exploring the farm together last night. Maedee seems to think Peter is a great new play mate!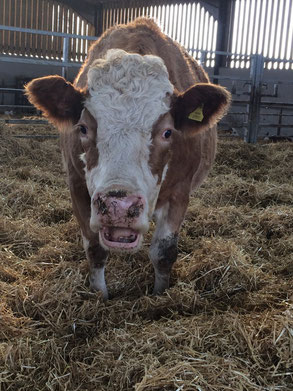 We posted a picture of Marmalade enjoying
her special bucket of birthday food
on our Facebook page.
So far she has received 119 likes and 4 special comments from people
all over the world, as you can see she 
was a little surprised when I told her
this morning.
Good old Marmalade!
---
25th February 2016
Today and last night George has been busy meeting new people who share the same passion in trying to find ways to improve the way we all operate our businesses. Dawn Meats who we supply with our cattle has just set up the Sustainable Farming Group, of which George is a member. This was the first meeting of the group with a tour of Dawn Meats site at Cardington and a behind the scenes look at a McDonalds restaurant, all of which was very interesting and a big eye opening experience. We also discussed many of the issues we face and ways that we maybe able to improve things in the future.
Many thanks to all involved in making this the first meeting an enjoyable experience and here's looking forward to the next time we all get together to discuss things further.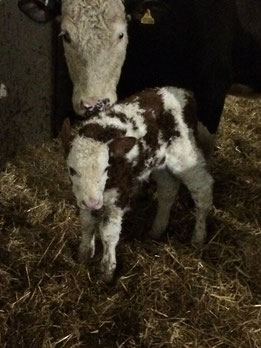 Some time this afternoon we have had another
Rock Star sired calf born.
Baby Friendly (guess who her mother is!) has had 
a lovely little boy, he also has the 
Rock Star birth mark on top of his head.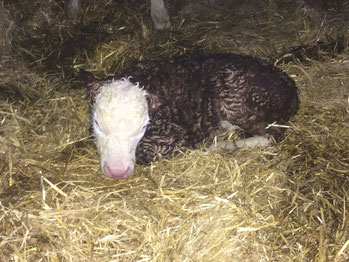 Early yesterday evening we had another
little girl born.
She is another Brigadier sired calf whose mother
is another of our home-bred
2012 born Simmental X cows.
---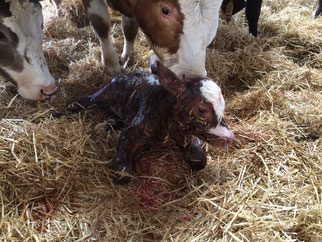 23rd February 2016
Brindle is a Great Grandmother!
Florence her Granddaughter gave birth to our second Romeo sired calf at around 11.30 this morning.
She has had a little boy called Dougal and although she is the youngest of our 2014 born heifers she knows exactly what to do.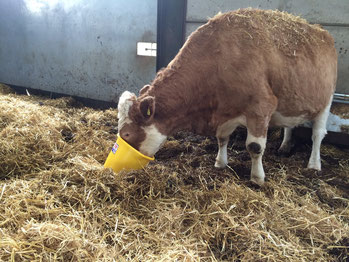 Its Marmalade's 17th birthday today. 
She is the original home-bred animal being born here at Westbury and spending her whole life on the farm. She has had 14 calves so far, the first when she was just under 15 months old (this was a mistake) and is due to have another very soon. She is a lovely cow, being very cuddly for most of the year except when she has a new calf, she then turns into a raging monster for a few days! To celebrate the occasion she has had a special bucket of food and lots of cuddles this morning.
Happy Birthday Old Girl! 
---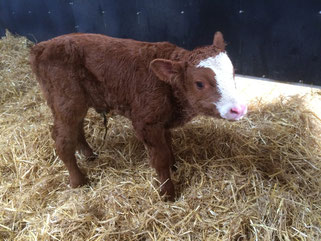 21st February 2016
Look what was born late last night!
Our lovely Lumina gave birth to this lovely 
little chap, he is our first Red Angus X born at Red Oak Farm. His father is Romeo, the bull we brought back in April last year. The calf is called Monty.
This makes Maggie a Grandmother!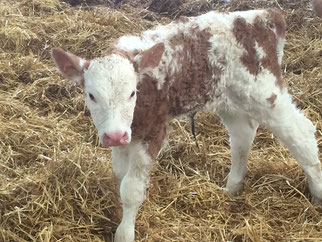 300605, a lovely 4 year old Simmental X
had our first female calf sired
by our very own Rock Star.
She, like the bull calf born the other day, also has the Rock Star birth mark on top of her head.
---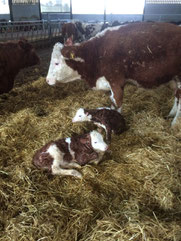 20th February 2016
Look what was born this morning!
We have had a set of twins born this morning, 700609 who is a twin herself gave birth to a lovely little boy and girl at around 6.30. The boy is a little bigger than his sister who would not be much bigger than Peter the dog.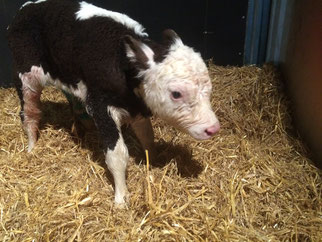 We have had a very special girl born.
This is Maedee who was born at around 11.45 last night.
Her mother became very poorly yesterday evening and the vet was called at around 10.15pm. It was decided to carry out an emergency caesarean and then put her mother to sleep. Again this was a hard decision to have to make but for the sake of the cow it was the best and only option. George has again been up most of the night making sure she gets the early milk she needs, feeding her every couple of hours. We have put Auntie Miracle in the pen with her hoping she will be a surrogate mother and we will now raise her ourselves. This is guaranteed to mean that she will become another farm pet that will be around for many years as she enters the breeding herd.
Once again we have to thank Maedee, one of our vets for another job well done.
You will be able to meet her on the 5th June at Open Farm Sunday!
---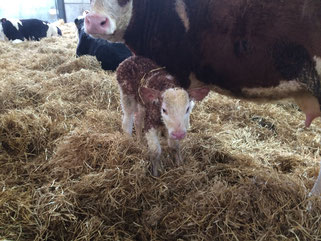 19th February 2016
It has been a busy morning here at
Red Oak Farm, we have had two new arrivals 
and it is only lunchtime.
One of our home-bred cows has 
had a lovely little girl, again she is very pleased 
with herself showing her off to everybody.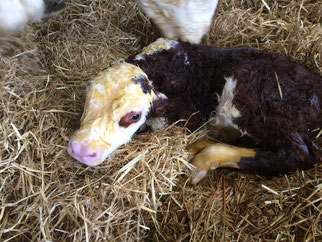 And then just before lunchtime
this little boy was born.
His mother is another of our home-bred cows
and his father is our very own Rock Star.
We have been waiting for a couple of weeks
for a Rock Star baby to be born, I suppose this 
makes Tanya a surrogate Grandmother as
Rock Star is her little baby!
---
 18th February 2016
We have started to do more planning for Open Farm Sunday and are pleased to announce
that any money we raise on the day will be donated to the
Walking with the Wounded charity - www.walkingwiththewounded.org.uk
The work they do helping our ex-service men and women is unbelievable and we 
feel this is a worthy cause to support.
The farm will be open from 11am to 4pm on the 5th June 2006, we will be updating the
Open Farm Sunday section of this site as we have more info.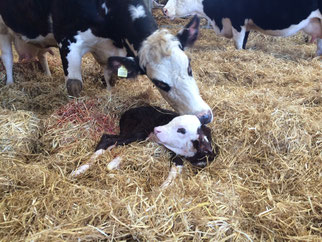 Brindle, one of our favourite cows
has had a little boy today.
She calved at around lunchtime, this is the first
bull calf Brindle has had in a while. We have
all her last 5 daughters in the breeding herd.
Brindle as well as being a great mother is also 
a Grandmother and will soon become a Great Grandmother with Florence due to calve soon!
---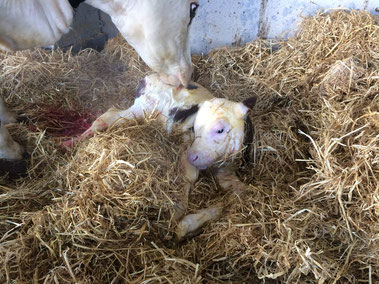 16th February 2016
401108 is the youngest Hereford X cow (10 years old) we have on the farm, she has given birth to a little boy this morning.
We have also put our Moocall calving device on Lumina, she is due to have the first Romeo born baby on the farm and is showing signs of calving soon.
Now I have said this she will probably not calve for a couple of weeks, but at least with Moocall we will know when she starts!
---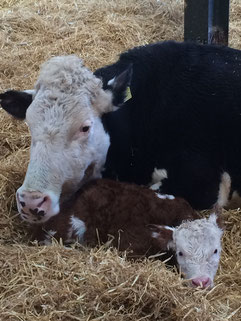 15th February 2016
Friendly, one of the old Hereford X cows
has had a little girl this morning.
As the name suggests Friendly is a lovely cow
who is also a devoted mother, she will be a few paces behind
her little calf for the first few weeks of her life.
It does get very entertaining to watch as the calf gets quicker 
Friendly gets slower!
---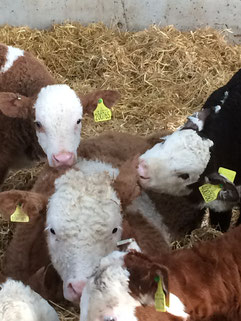 14th February 2016
No calves today but we did catch this little moment
on camera.
It shows our lovely pedigree Simmental Gypsy-Rose
who was born last October being mugged by all the youngsters.
The one nibbling her ear is Ribbon,
no real surprise as she is probably the naughtiest 
of the bunch still!
---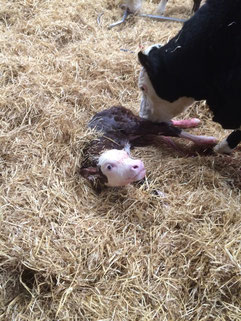 13th February 2016
Another of our older Hereford X girls has
calved this morning, she has had a little boy.
---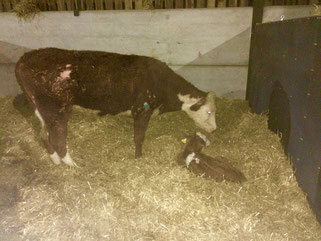 12th February 2016
Don't Panic, Miracle has not had a calf.
This is the first time Miracle has been in a pen 
with a young calf and I have to say she is being the proper little Auntie to Cesar.
She will stay with Izzy & Cesar whilst the young studs are with her friends so as we do not have a Miracle in calf!
---
11th February 2016
This time of year has to be one of the most emotionally draining times of the year on the farm,
we deal with life and death on a daily basis!
After the highs of two new births this morning we have had to have a cow put to sleep
this afternoon. 300588 (this one did not have a name!) was the mother of Bruno the little calf we
lost at the beginning of the week to pneumonia, she had been poorly since she gave birth and was just not getting any better. We tried everything but to no avail so as she was in pain today we decided we had only one choice left. 
---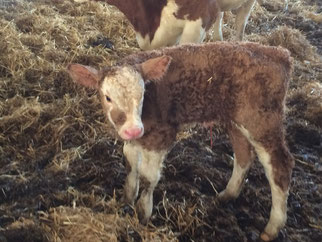 It has been a busy morning here at Red Oak,
our lovely Daisy gave birth in the early 
hours. 
She has had a little girl called
Dandelion.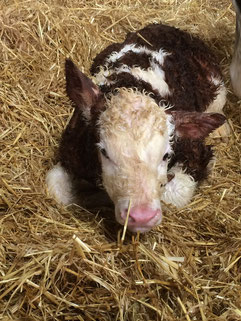 Samantha has also given 
birth this morning, at about 11 o'clock she
had a little boy called Smartie.
She is ever-so pleased with herself, she keeps
showing him off mooing at everyone
and is giving out loads of Samantha Kisses! 
---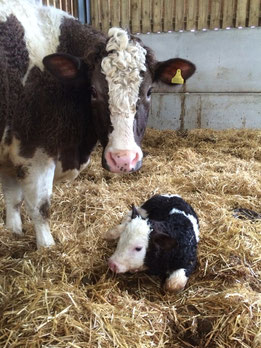 10th February 2016
Our lovely home-bred Hazel gave birth in the
early hours of this morning.
She has had a little boy called Thorn.
We also have two rather randy bulls at the moment.
Rock Star and Romeo have just been
put in with the heifers we artificially inseminated and implanted embryos into so as they are ready if any of them come 
bulling again.
My are they excited!
---
9th February 2016
Sad news today, Bruno lost his fight against pneumonia late last night.
Sleep tight little man!
---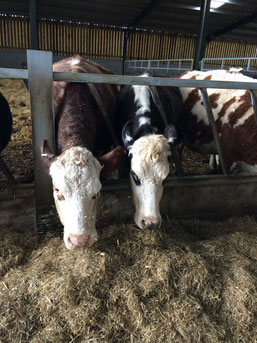 8th February 2016
Still no new calves but we have taken this picture of mother and daughter, we have also added more photos of the youngsters to the 2016 photo gallery.
Ermentrude on the left is Brindle's 2011 born calf,
Brindle has also had heifer calves every year since and all of those are also in the breeding herd.
They are both still to calve this year  - come on girls!
Bruno is still fighting the illness he has and is still a very poorly calf, all is being done to help him and he is receiving loads of TLC. 
---
 7th February 2016
It has all gone quiet on the calving front again, probably not a bad thing as we are all suffering with terrible colds!
One of our calves is also very poorly with a cow cold (pneumonia), this being Bruno.
We are doing all we can to help him but he is very poorly!
We have set up another page dedicated to Open Farm Sunday, the day we along with many other farmers around the country open our gates for the public to come and see how we do things. We will be updating this with news of what you can do/see as we have it. 
---
5th February 2016
Oh what a night!
Cesar was born in the very early hours of today (12.15 ish) and as his name probably tells you it was not the easiest of births. Izzy his mother had been uncomfortable for most of the afternoon then at around 7pm she started to get worse, it was then we noticed her water bag had burst. We decided to leave her a while longer to get on with the job in hand and checked on her again an hour or so later, it was at this point George thought things were not as they should be. Upon investigation we could not establish if the calf was backwards, sidewards or upside down so the vet was called.
George's fears were right and the calf was coming backwards and upside down. After our vet made many attempts to turn the calf over (all without success) and we were fairly certain that the calf was still alive we decide to carryout a caesarean. This also proved to be a little difficult because of the angle the calf was laying, but after some manipulation Cesar was born. Now are poor vet had to sew up all the layers and again this proved to not be as easy as it should be due to the fact that to get him out she had to cut the uterus blind so she had to sew up blind too, but after a while all was done and Izzy was introduced to her lovely little son. Thanks to Maedee the vet for all her hard work.
---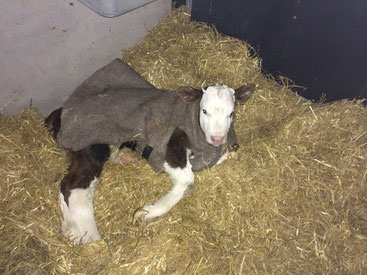 3rd February 2016
Still no new born calves, lots of mothers in waiting though. I have a feeling we are going to get very busy again in a day or two.
Bruno is still getting stronger day by day but as the nights are getting colder again we have decided to put
our special calf coat on him to keep him warm.
We first brought the Woolover (calf coat) for Miracle, it was then used on Stevie last year when he had a mild dose of pneumonia.
Fingers crossed it helps Bruno in his fight to get stronger as well!
---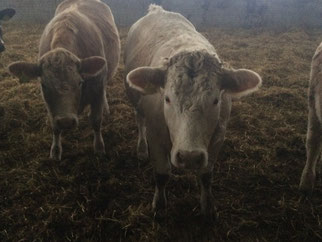 1st February 2016
It seems to have gone a little quiet on the calving front but we are still busy at
Red Oak Farm.
Today we have implanted some more of our Red Aberdeen Angus embryos into the heifers we brought back in November last year.
Thanks to Katie, one of our vets and good luck to her as she is now off work as she is due to calve (have a baby) herself in about a months time!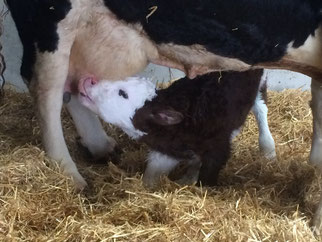 We are pleased to say that
Bruno the rather large calf born on Saturday evening is getting stronger and can now 
almost stand on his front legs.
George on the other hand is now completely exhausted after a long couple of days nursing Bruno and his mum! 
---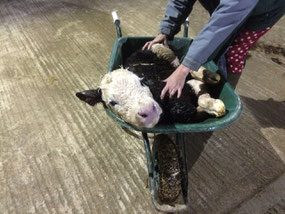 31st January 2016
This is Bruno, he was born late last night and as you can see from the photo he is a rather large calf!
His mother is one of our old Hereford X cows. She managed to calve him unassisted but will need looking after for a few days.
It has been a rather long night for George as he has been up most of it making sure Bruno gets the feed he needs and his mother has lots of TLC to make sure she is OK.
---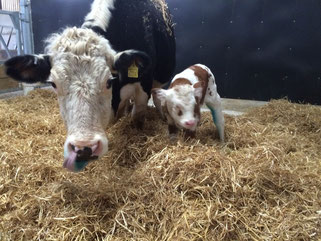 29th January 2016
Another of our old Hereford X cows
calved in the early hours of
this morning producing another 
heifer calf.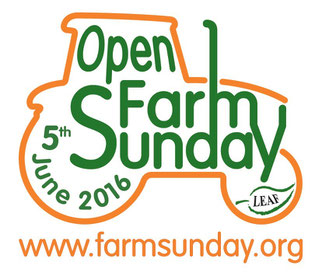 We have also decided today to take part in
Open Farm Sunday.
We will open our doors on Sunday 5th June
for people to come and see how we do things 
here at Red Oak Farm.
Make a note of the date on your calenders and
keep watching here over the coming weeks as we put together a day to remember!
Come and meet the Happy Moo's of Red Oak! 
---
28th January 2016
After looking like she was going to calve for days Amy finally got on with it this morning,
she has had an absolutely beautiful little girl.  
As she is Lily's sister we shall call her Tiger-Lily.
---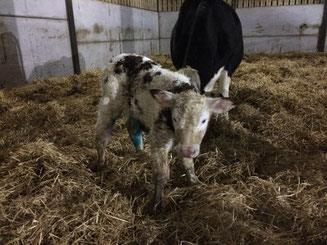 24th January 2016
Our latest little girl has now been named
she will be called Chloe,
lets hope she is not as naughty as
her name sake!
---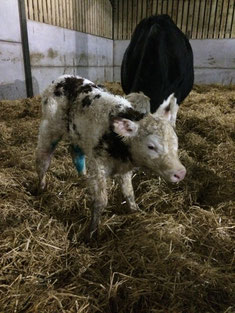 23rd January 2016
Another of our old Hereford X cows has produced
this little baby girl this afternoon.
Now what shall we call her?
---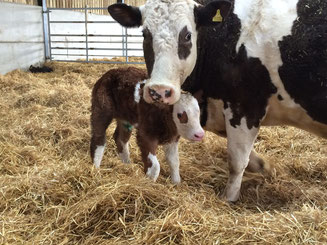 23rd January 2016
Bluey another of our lovely home bred cows 
had a rather large bull calf late last night.
Although he is a big boy she managed to have him unassisted, well done Bluey.
---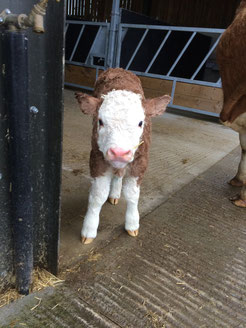 22nd January 2016
The boy has been named
Red Oak Herbie
---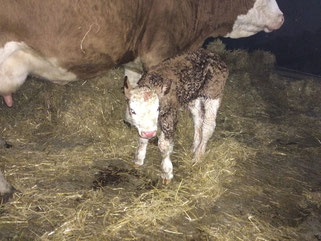 21st January 2016
Wanda, one of our lovely pedigree Simmentals has given birth to a rather large bull calf this evening.
He is the first pedigree born calf to be sired by Brigadier our main stock bull.
---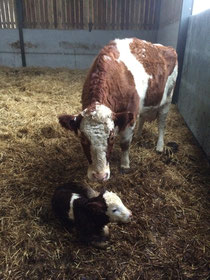 20th January 2016
We were greeted this morning by a very proud Maggie with her bull calf. Maggie is one of our special cows as she is the first animal George had to help as a calf when he took over the herd in 2011.
---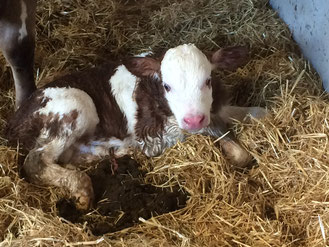 19th January 2016
We have had this little beauty born today,
he is the first boy of the year and will be called Pierre.
Well done Patch!
---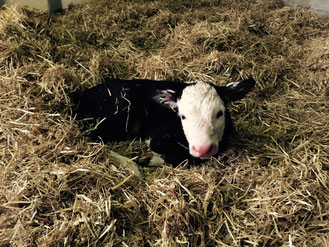 15th January 2016
Barb-Wire-Neck had a baby girl this morning, I have to say that this calf is already more cuddly than her last heifer calf Bo and she is very cuddly! As she is Bo's sister we have called her Ribbon.
We have also started the synchronisation process on our 9 heifers ready to implant Red Angus embryos on the 1st February. They were all scanned to check they are clean and had their prids inserted. Six out of the nine are Ok to use as recipients, out of the other three, one will be artificially inseminated using semen from a Simmental bull, 1 will be artificially inseminated using semen from an Angus bull, and Buttercup is already in calf. She is due to calve around the middle of August after Romeo jumped a fence in November to have his way with her
(well at least he's keen)!
---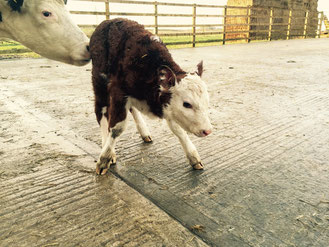 13th January 2016
And we're off
We have had our first baby of the year born today,
Mrs Charles one of our old Hereford X cows has had a lovely little girl, me thinks she will have to be called Charlene as this is the first girl she has had in a while.
Blodge also calved today, but unfortunately she gave birth to a still born heifer calf. Loads of TLC for Blodge over the next few days!!!
---
Lots of news to catch up with!
Firstly a belated happy new year to everyone and sorry for not updating our news for a while, as you will see below it has all been a little busy for the last month with things about to get even more crazy with the start of calving and our autumn calving girls to get in calf. We have also altered our photo gallery a little making it easier to look at our photos.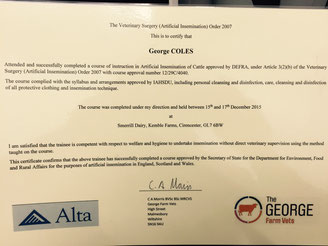 Firstly, back in December George went on a 3 day Artificial Insemination training course in Gloucestershire meaning he is now fully qualified and approved by Defra to carryout all our own insemination work.
Thanks to Cathy and Graeme the course tutors and to Smerrill Dairy the host farm.
All the training will be put to good use in a few weeks as we get our autumn calving girls in calf.
More very exiting new is that George has been offered a place on the AHDB Beef & Lamb's national beef progressive group. The aim of the group is to develop the technical and business skills of forward thinking beef producers by providing them with access to industry experts. The group will be made up of 20-25 beef farmers from all over the country, they will meet a couple of times a year to to look at new methods and skills needed to produce beef more efficiently. It also means we will be taking part in Stocktake, a tool that will put our operating costs against others in the country to see where improvements can be made and how we compare to other producers.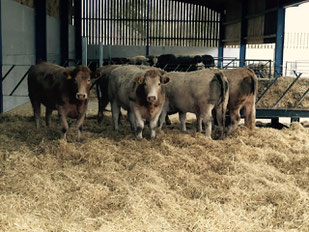 We also carried out our annual blood testing in December, this is done as we are on the road to becoming a hi-health herd. The results landed just before Christmas and we are pleased to say that we are again a BVD accredited free herd with the commercial herd as we expected and no change to the status of the other diseases (this will not change until all the old girls have gone)!
On the pedigree herd front we tested clear for BVD, IBR, LEPTO and Johnes and will carry on and manage these cattle to retain this status.
The five new girls brought to the farm back in November have now had their 28 day re-tests carried out and again they have come back all clear so they have now joined the main herd and are being got ready to implant embryos into them soon.
Christmas at Red Oak Farm is always jolly, with many of our lovely animals getting into the spirt of things.
This year we had them wearing Christmas antlers and a silly Christmas hat with Ermentrude probably being the best sport of them all. Tanya also received a painting of her lovely little boy Rock Star, this was painted by Elsie Merris-Osbourne of Draw for Toffee Art and as you can see from the photo below it is rather good!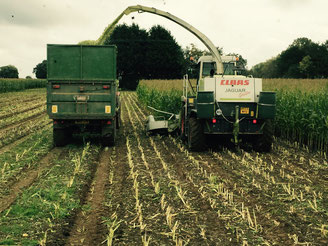 On the 8th January we hosted a Winter Silage Event for AHDB Beef & Lamb, Dr Dave Davis came to give a group of farmers a talk on how best to make, store and feed silage. This should help us to reduce the amount of losses we have and help us to improve quality of our silages in the future.
And finally, last night (12th January) we attend a talk by Katie Goodfellow of Towcester Vets on improving suckler herd fertility held at the Saracens Head in Towcester. A great talk followed by some lovely fish and chips, it even looks like we are doing things the way the professionals advise you to here at Red Oak Farm.
---
14th December 2015
2016 Calendar 
Its that time of year again and we are now sending out our 2016 calendar, we now produce one every year using some of the many photos we have taken of our cattle over the last 12 months. They are distributed to many of our suppliers and friends around the country as well as one being put in all of our Christmas beef boxes. This year we have also gone worldwide with calendars going to people in Argentina, America, Dubai and Norfolk. Who knows, maybe next year we could try and use them to raise some money for charity!
---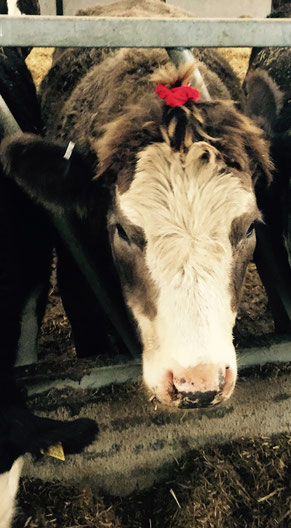 13th December 2015
Red Oak Fashion
Nellie, one of our SimAngus heifers has started a new fashion here at Red Oak.
After hearing about the man-bun, she has taken to wearing a cow-bun on special occasions.
Only here at Red Oak!!
---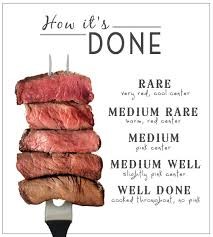 13th December 2015
Christmas Beef Boxes
It has been a rather busy day at Red Oak Farm today, all the meat for our Christmas beef boxes was collected from our butchers this am and packed into there boxes along with some extra Christmas goodies. Then from 2.30 today we had open farm with Christmas drinks and nibbles for everyone to come and see how we raise our beef and collect their boxes. Thanks to everyone who has brought some of our beef, we hope you enjoy it!
---
2nd December 2015
The Angus steers went off today and again we had good results, they averaged a dead weight of 379.5kg with 1 grading R4L, 2 grading R4H, 1 grading O+4L and 1 grading O+4H.
It looks like they were probably kept a couple of weeks to long with the H's but we were expecting it! 
---
30th November 2015
Today we sent the last of our 2014 born Simmental X Steers off to Dawn Meats at Bedford, to be processed for their Marks & Spencers contract.
Although I find it very hard sending any animal off the farm for slaughter it is the sad part of the job, the way I now look at it is that the animals have had a bloody good life whilst they are with us.
I alway have a bad nights sleep the night before and find it hard loading them onto the lorry or delivering them myself to the abattoir, then you spend the rest of the day waiting for the kill sheet to be e-mailed to you. This year was the first time in a couple of years that we have supplied Dawn Meats with cattle and the first time ever of doing so ourselves dealing direct with their procurement team, cutting out the middle man. 
The 2014 born batch of Steers have been the best the farm has ever produced,
we have achieved an average dead weight of 373.9 kg with 2 animals grading -U4L, 14 animals grading R4L and 3 animals grading R3. Not bad when 75% of them are born to our old Dairy X Beef cows.
I shall be having another sleepless night tomorrow as on Wednesday we will be sending our 
five 2014 born Angus X Steers off to Foyle's to be processed for their Tesco contact, I will post more on how they get on on Wednesday.
---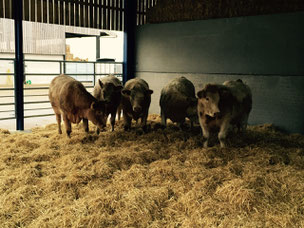 27th November 2015
New Moo's 
We have got 5 new breeding animals.
They are Charolais X heifers and will be used as recipients for our embryo program for their first calf, and then they will go into the main breeding herd after that.
"Rock Star you have 5 more wives to take care of in the future"
---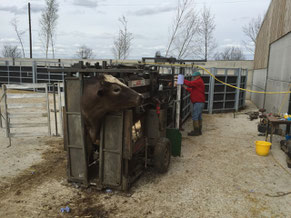 22nd November 2015
A few days away!
Last week George attended a cattle foot trimming course held on a dairy farm near to Wooton-under-Edge in Gloucestershire, meaning he now understands how to look after our cattles feet better. We will still have our professional foot trimmer come once a year to do the whole herd.
Thanks to Sarah from the George Farm Vets practice and to the host farm.
---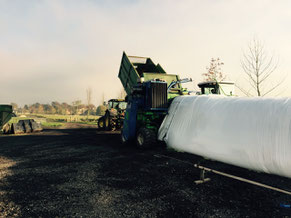 2nd November 2015
Had AgBag here today.
We have now harvested our maize, clamping 240 tonne in an Agbag ready for feeding to our cattle along with the grass silage made back in May/June. 
---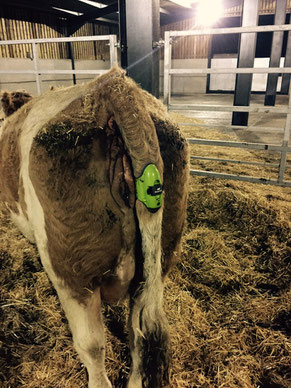 1st November 2015
The Moocall device attached to Emily's 
tail was activated at 3.50am today notifying us that she had started to calve.
Unfortunately due to some complication
Emily had a dead calf.
We are all gutted here at Red Oak but on a positive side Emily seems to have come through the very difficult time OK.
We will now look to start her breeding program again in January.
---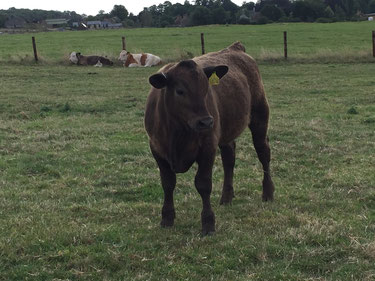 19th October 2015
And the noise continues.
There has been rather a lot of noise around Red Oak Farm over the weekend as we weaned all the 2015 born calves on Saturday. They were all weighed, wormed and sorted into boys and girls before being put into their lovely clean homes for the winter.
We have had some great weight gains again this year with some of the older animals putting on massive amounts, the average weight gains are Simmental X boys = 1.56kg per day, Simmental X girls = 1.48kg per day, Angus X boys = 1.46kg per day and the Angus X girls = 1.36kg per day.
Forest our Pedigree Simmental bull calf weights in at 526kg and he will not be one year old until December.
---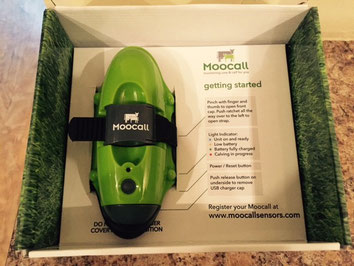 October 15th 2015
Our new calving gadget arrives.
Our Moocall once attached to the tail of the cow will monitor her, detecting and recording her activity to accurately determine when she will most likely calve. We will then receive a text message to ensure we can be present when calving occurs, usually about 1 hour prior to calving.
We will use this mainly on our first time calving heifers, starting with our lovely pedigree Simmental Emily who is due in a few weeks.
---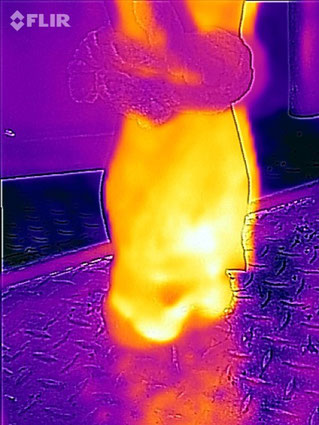 October 14th 2015
First major success using our Thermal Imaging Camera.
One of our Angus X steers that is only weeks away from being finished went badly lame on Monday, out came the camera to discover the problem was in his lower leg and not his foot (probably been kicked). So instead of treating with the normal method of Antibiotics we instead gave him some
Anti-imfamatory medicine. This resulted in him walking better the next day and by today you would hardly know anything had been wrong with him. It also means he is not on as long a withdrawal period before he can be slaughtered.
And some people thought I was mad when I brought the camera!
---
October 4th 2015
We are now taking orders for beef boxes ready for delivery in time for Christmas, please go to the meat boxes for sale section for more info.
---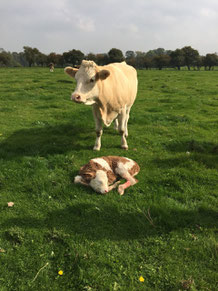 October 3rd 2015
We are pleased to announce that our lovely cow Cindy has given birth to a gorgeous little heifer calf, the first pedigree animal to be born into the Red Oak prefix.
Her official name will be Red Oak Gypsy-Rose.
---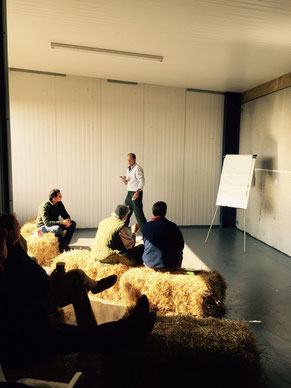 October 2nd 2015
Today we hosted a meeting for AHDB Beef & Lamb.
Local farmers came to listen to the advice of Jamie Robertson on Cattle Housing & Pneumonia Control. He explained how the environment, cattle and pathogens interact, explained practical aspects of farm building design and the challenges presented on farm and gave us new data and key issues on calf house/calf health interactions.
We also went on a farm walk around the buildings to diagnose any potential improvements we could make and a Pneumonia MOT on our set up.  Jamie found a major problem in sheds two and three in that the special tunnel ridges we had installed has been done incorrectly not allowing enough space to let the air out. We came up with a way of sorting this problem and I shall be correcting it before housing to help with the airflow thoughtout the winter. Thanks to Jamie for helping to identify this. 
---
September 1st 2015
Don't forget you can follow us on Twitter (George W Coles @redoakfarm 1) and follow and like us on Facebook (Red Oak Farm).
---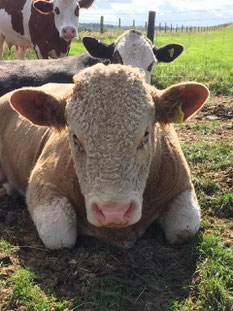 20th August 2015
Scanned all the girls today with great results.
We only have 6 breeding animals not in calf, not bad when you think about all the messing about they went through with the AI and Embryo programs and the fact that Brigadier went lame in the middle of the season.
Brigadier managed to get 38 out of 40 in calf, Rock Star managed to get all his girls in calf (mummy Tanya is very proud of him) and Romeo got 12 out of 16 of the AI and Embryo fails in calf along with another 2 young heifers.
We start calving in October with 2 pedigree Simmentals and then again in mid January with 1 pedigree Simmental and 72 commercial cattle having a range of Simmental X,  Aberdeen Angus X and of course our pedigree Red Angus Embryos.
Looks like I will be a busy boy!